Raghurajpur: The Crafts Village
Raghurajpur, a small village in Orissa, occupies a prominent position in the cultural map of India. The village, in its paradisiacal setting, is perhaps the only one of its kinds in India, where each family is engaged in one craft or the other. The varied and rich traditions of Oriya arts and crafts have been vibrantly kept alive by the skilled villagers.
Raghurajpur has a community of artisans, who produce different varieties of handicrafts items such as Patachitras, Talapatachitra or palm leaf engravings, stone carvings, papier mache toys and masks, wood carvings, wooden toys, cow-dung toys and tusser paintings. Rarely does one get to see such an assemblage of artworks all in one single place. There are 103 households having 311 artisans in the village. Some of them are winners of National Awards. One experiences the best of Orissa's traditional art and crafts, and also some of the finest artworks in this palm shaded village of Raghurajpur.
Orissa's famous folk painting, known as Patachitra, has a history of great antiquity. It also has several centers at Puri, Parlakhemundi, Champamal (Sonepur), Athgarh and Dinabandhupur (Dhenkanal). However, it is Raghurajpur that has become synonymous with this art. The Chitrakaras (Patachitra artists) have a special position in this artist's colony or Chitrakar Sahi.

The Chitrakaras are associated with the rituals of Jagannath Dev, Orissa's presiding deity, as the art of Patachitra painting originated out of these ritualistic activities. On the occasion of Snana Purnima in the lunar month of Jyestha (May-June), during the period of anasara (the fortnight following the fullmoon day), three patas painted by chitrakaras are placed on the sighasana (Deity-throne) inside the main Jagannath temple in Puri. The chitrakaras also execute colorful paintings on the three chariots for the famous Rathayatra of Jagannath Dev. Patachitra painting has now become an internationally celebrated art form, endowing unprecedented prominence to the humble village of Raghurajpur. Village Crafts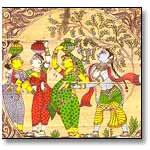 Apart from producing fine handicrafts, Raghurajpur is also the home to a living tradition of performing arts, known as Gotipua, the earlier form of Odissi. Guru Kelu Charan Mohapatra, a maestro of Odissi dance, was born in this village and had his early trainings in Gotipua tradition here.
One small village about 20 minutes by road from the temple town of Puri has made its own identity in the international map of art and culture. Raghurajpur – the natural haven of artists for centuries – is a place worth writing about and visiting at least once for sure.
Handicrafts Trade
Suggested Reading