History Traditions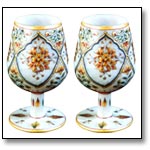 History & Tradition
Stone was amongst the first material used by prehistoric man to create tools. Though items made from stone gave way to, items made from metal, stone continued to be one of the preferred material for making sculptures.
The stone-carving tradition in India is one of the richest in the world. Guilds of masons and stone carvers have existed here since the 7th century B.C. The skills were handed down as family lore from father to son, a practice prevalent in some parts of the country even today.
India has a rich tradition of stonework, as is evident from temples in Khajuraho, Konark, Martand in Kashmir and Ellora etc, which have richly carved sculptures and relief work on them. Large temple complexes of Ramashwaram, Dilwara and Tirupati not only are marvels in stone, but they reflect a high degree of sophistication reached by craftsmen engaged in stone craft.
Stone craft in India is not only restricted to ornate carvings on temples or sculptures of deities, but it is also used in making items like carved panels, tiles, paper weights, pen stands, models of historical buildings, sculptures of animals and humans etc.
Different and varied stone crafts exist in different parts of India:
Different types of stones like, marble, soapstone, sand stone etc are used by craftsmen in India. Large blocks of stone are quarried and then taken to various craft centers. The basic design is traced on the stone and it is given a crude shape. The final carving is then carried out and the items are polished.
Madhya Pradesh has a rich tradition of stone craft. Gwalior is known for jali (lattice) work. Animal and human figures are created in Jabalpur and Tikamgarh. The tribal region of Bastar is well known for sculptures of tribal gods and memorial pillars.
In Andhra Pradesh the main centers of stone craft are Durgi, Allagadda and Tirupati. These centers excel in making of intricately carved figures of gods and goddesses. The craftsmen here strictly follow ancient rules pertaining to carving and making sculptures.
Gujarat is known for marble sculptures from Ambaji. Rural areas of Bihar are known for utensils made from black stone.
Rajasthan has the best marble and sandstone quarries in India. The craftsmen here have an age-old tradition of carving and making sculptures. The marble quarry of Makrana has contributed to making of Taj Mahal at Agra and marble from here is also used in the making of exquisite Dilwara Jain temples at Mt Abu. The craftsmen here follow the rules laid down in Shilpa-shastra, while creating images of gods and deities.
Jaipur is the center of marble carving in Rajasthan. Craftsmen, not only create figures of deities, but also make household items like bowls, trays, items for kneading dough etc. Ajmer, Udaipur, Jodhpur, Bikaner and Jaipur are main centers of jali making.
Tamilnadu, Karnataka and Orissa are also famous for figurines and items made from stone. The craftsmen from Orissa use soft soapstone to make finely carved sculptures of gods and goddesses.
Uttar Pradesh has many craft centers engaged in making different items from stone. Hamirpur district is known for statues made from locally available red soft stone. The raida community of Banaras, is responsible for making a range of marble items include tableware, plates, glasses bowls, food containers, candle stands, etc. Agra is famous for its intricate marble inlay work, drawing inspiration from the Taj Mahal. Floral and geometric patterns dominate designs created here. Popular items include models of Taj, bowls, boxes, lamps, vases and pitchers. Intricately carved friezes, panels and trellis or jali work done in exquisite designs is a specialty of this place. Vrindavan and Mathura are popular for alabaster work. At times alabaster items are studded with precious stones.
Jhansi region known for a dark brown stone, spotted with yellow. Lamp stands, pastel, incense stick holders are made out of this stone.
Handicrafts Trade
Suggested Reading